3 days of meditation, exaltation & transformation. This longtime practice is a core part of the 3HO tradition and we welcome everyone to evolve with this deep 3-day experience: mandala for renewal for the soul. This practice awakens and cleanses the meridians, nadis and nerves and allows for a life refresh that brings the practitioner to a new perspective.
As we enter this new era of the Age of Aquarius, we have this complex moment of transition to let go of our old ways of looking at the world and reboot our internal consciousness—away from group think/cult think that was a program of the 60's, 70's, 80's meant to bring meditation into the culture and into a deeper experience of an embodied practice. Now we tune into our own individual experience while still participating consciously as part of a group collective process. Together, we can appreciate this practice from a new world view of gathering together, singing together and supporting each other heart-to-heart. Yes, the format and music remain unchanged; vintage, epic and full of light. Through partner work that includes specific mudras, chanting with mantras and profound asana, these days will be challenging and deeply fulfilling. Allow this timeless practice to serve your life, take away your stress and return to your world with inspiration and gratitude. 3HO is committed to giving the community experiences of deep meditation and we invite everyone to take the opportunity to try it with clear eyes and an open heart. For more information and to see the annual schedule of upcoming White Tantric Yoga® courses, click here.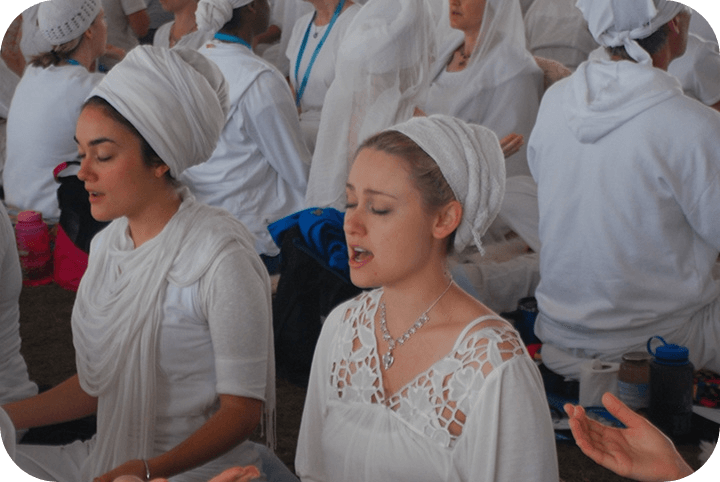 June 19th, 20th & 21st, 2024
3HO International & 3HO Europe are the only places where you can practice 3 days of White Tantric Yoga®.
Do not miss the chance of participating in this transformative experience!
If you wish to attend only White Tantric Yoga®, you will need to purchase a White Tantric Yoga®-specific Three-Day Solstice Pass ($715), or purchase individual day passes for your specific dates ($250/day for White Tantric Yoga® days).
Tickets for White Tantric Yoga® are sold online only. You must then check-in onsite prior to the start of the course—either the evening before your day pass starting at 6 p.m., or starting at 7:00 a.m. the morning of the course.
Arrival Times (for Day Passes)
Please make sure you arrive to the Registration Check-In Office within the following hours to check-in & receive your appropriate credentials. This will ensure that everyone is seated by 8:30 am, including the people who are working in Registration Check-In Office! 
Morning Arrival: The morning of your WTY day pass between 7:00 a.m. and 8:00 a.m.
Evening Arrival: The evening before your day pass between 6:00 p.m. and 8:00 p.m.
Wristbands and Badges (For Day Passes)
Badges and your appropriate wristband will be given to you at check-in for the numbers of days you are attending WTY. 
Access will be granted only to participants wearing BOTH their Solstice badge and the WTY bracelet for that specific day. Security checks will take place during the event.
Tantric Shelter Entry 
You may start to enter and get seated at 7:30 a.m. each morning.
Warm-ups start at 8:15 a.m.
The course starts promptly at 9:00 a.m. 
Level 1 Teacher Training Certification
The ticket for White Tantric Yoga® only includes participation in the evening before the event, three meals on the day of the event, and Sadhana the morning after. Participants registering for individual White Tantric Yoga® days can also choose accommodations onsite (if you do not wish to bring your own gear for camping). Book early because they are filling up!
Be sure to sign-up for our email list and be the first to know about registration for Winter Solstice 2024!