Your gift catalyzes meaningful change through Kundalini Yoga
Gifts of all kinds and amounts bring 3HO's vision to life: sharing the uplifting practices of Kundalini Yoga with people everywhere.
Your Contribution Matters
Maybe a new teacher in Thailand is looking for a particular kriya. Or a lifelong student in Chicago wants a recipe for the weekend. Or someone who's struggling in Australia needs to hear about seva and the solstice celebration. 3HO is for everyone, everywhere looking for connections to resources, inspiration, and community events as they engage in the path of Kundalini Yoga in their life.
Every day, someone gets on a yoga mat for the first or the thousandth time and uses 3HO resources — videos, posts, livestreams — to guide their practice. We are grateful for your support as we expand our digital resources.
For instructions and information on how to give the gift of stocks, bonds, or mutual funds, please utilize the following form. You may also contact the Client Service Team at First Republic Investment Management at 503.471.4989.
Planned gifts create a lasting legacy for generations to come. To learn about giving to 3HO International through your will, life insurance, retirement assets, real estate, or by establishing a charitable trust, please contact Merle Wallace. 
Recurring giving is an easy, environmentally friendly, automatic way to give to 3HO International. To set up recurring giving, select "monthly" on the donation widget above. Please contact Merle Wallace with any questions or to make changes to your recurring gift.
3HO International is a 501(c)(3) NPO and Non-Governmental Organization (NPO) in consultative status with the Economic and Social Council (ECOSOC) of the United Nations. All donations are tax-exempt.
Your contribution supports 3HO initiatives
Recognizing Yoga Luminaries
Every week, Kundalini Yoga teachers and community leaders impact their students' lives and make a difference in the world. Our Luminaries are selected for their leadership and dedication to service for the greater good, and we are proud to be a part of amplifying these inspiring voices.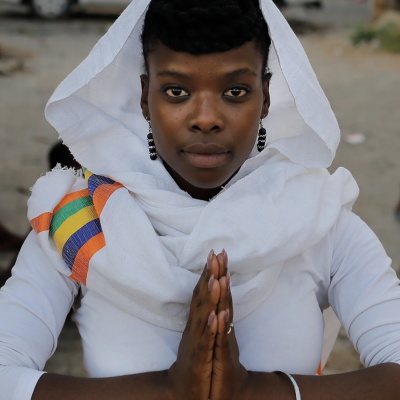 Hear from a few of our 3HO Luminaries – Kiret Nam Kaur (Haiti), Kenneth Strickland (United States), Sarandeep Kaur (Spain), Liam Pfeiffer (United States), and Amrita Nishan Kaur (Egypt) – as they speak about their experience with Kundalini Yoga and their deep connection to service. Donate to support future Luminaries!
Every year, hundreds of people in the Kundalini Yoga community come together in Española, New Mexico, for the 3HO Solstice event held on the days surrounding June 21st.
Support Ram Das Puri architectural design implementation
In the spring of 2020, 3HO finalized the construction of permanent structures at Guru Ram Das Puri. These permanent, sustainable structures are the foundation of our development plan; a long-term plan to create a retreat center that can serve and inspire.
We always welcome new conversations and innovative support for current projects. If you would like someone to be in touch with you about your thoughts and upcoming opportunities to make a difference, please let us know. You can contact us here.
Yogic Living - Be a Part of Things
Sign-up for Yogic Living, our bi-monthly community email for featured practices, recipes, numerology reports — and inspiring updates on fundraising projects and the impact your generosity is making.