Come and join us for a heartwarming celebration of the 2023 Winter Solstice, hosted by 3HO. We can't wait to connect with you and gather as a vibrant community to honor the end of the year and rejoice in the rebirth of a brand new chapter. This incredible event is all about embracing joy, transformation, and the deepening of our spiritual journey. Get ready for a delightful experience with uplifting music, captivating workshops, and Kundalini Yoga,  White Tantric Yoga® and deep meditation sessions. The best part? Surround yourself with sangat/community and like-minded souls who share your passion for holistic well-being. Let's come together, create a space filled with harmony, and set our intentions for the year ahead while welcoming the return of light. Save the date and get ready to be enchanted at the 2023 Winter Solstice Festival by 3HO in beautiful Florida!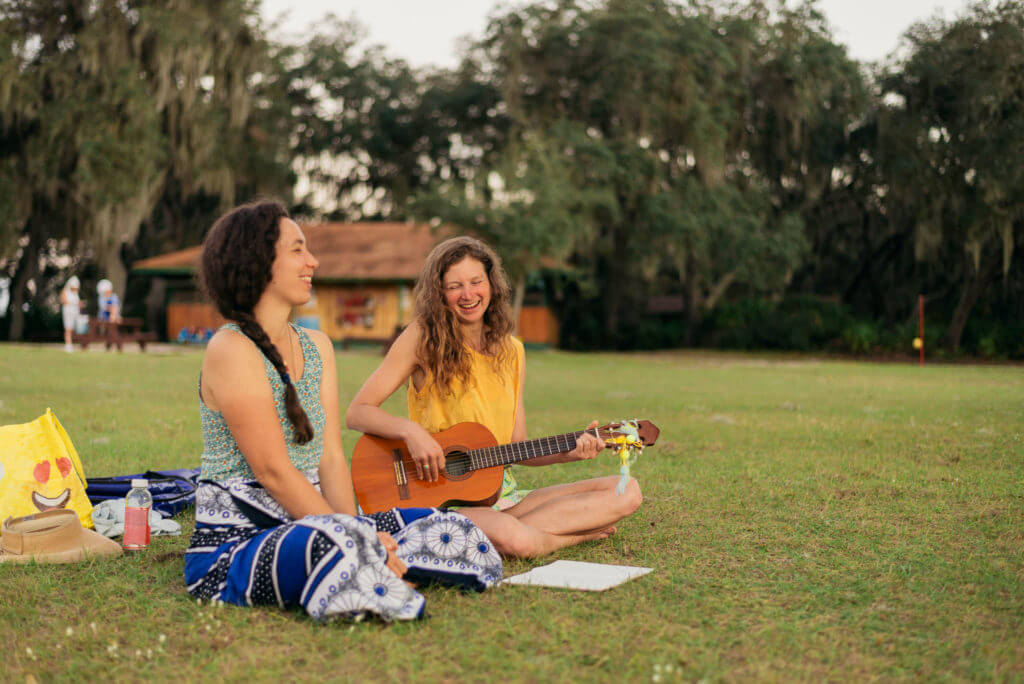 An intimate gathering to rebirth our in-person events, and an invitation to be in community
We will gather in person for an intimate Winter Solstice Festival in Florida this year. You're invited to the shore of the magnificent Tiger Lake, to build from the heart-up what is better and stronger than ever before. Our new event site is JUST down the road from the Circle F Dude Ranch and located on a beautiful lake, with a pool and permanent structures for teaching, lots of cabins for you and of course tenting for those who wish to camp!
We'll have an opening and closing ceremony, morning Sadhana, regularly scheduled classes and workshops, chanting, and evening gong. Back by popular demand! We heard your feedback regarding your love for 3 days of White Tantric Yoga® and we are finally able to accommodate! At the same time, we will offer concurrent programming for those who wish to take a pause from White Tantric Yoga®. We support the all-women leadership of White Tantric Yoga® and welcome their new CEO Siri Simran Kaur. We acknowledge that many people worldwide value this practice. During the 3 days of White Tantric Yoga® (Dec.19th – 21st), 3HO will offer alternate Kundalini Yoga programming. 3HO also offers circle processes with trauma informed facilitators to support everyone. We welcome back all of you to our community to continue the many unique practices that we love deeply.
Enjoy a fun and enlightening programming, so that you have a choice of what you wish to practice!  This is a precious time for our global community. May we breathe this new world into being
What It Is:
A 6-day Winter Solstice Festival to reignite the flame of the communal heart. We are thrilled to reintroduce 3HO's in-person Winter Solstice. This event, along with Summer Solstice, are the heart of our work and a chance to gather in a loving community. Solstice this December will be a return of the old, a birth of the new, and a joyous celebration of connection, sangat, and Winter Solstice bliss.
When It Is:
December 16-22, 2023
Where It Is:
This year's Winter Solstice will be hosted in the beautiful campgrounds at Retreats by the Lake – At Camp La Llanada in Lake Wales, Florida – 90 minutes from Tampa and Orlando and 3 hours from Miami. There is a pool and a lake for swimming and kayaking, we can't wait to celebrate the season with you again.
Learn more about the venue here.
This is our chance to reconnect in a familiar landscape! 3HO has hosted Winter Solstice in beautiful Florida for many years and we'd like to return there and see you again under the gorgeous oak trees and by the lake and pool! 
Winter Solstice has always been a cozy gathering and we look forward to the chance to reconnect and hold one another in peace, joy, and connection. 3HO International is dedicated to continuing our bi annual Solstice gatherings. 
Cost:
Please check out the Rates page for pricing and options.
Accommodations:
Accommodation options at the Retreats By The Lake include: lodges, cabins and campsites for your own tent camping. More info on the Travel/Stay page.
Travel:
Retreats By The Lake – At Camp La Llanada is approximately 90 minutes from Tampa and Orlando and 3 hours from Miami. The camp is situated on the shores of the beautiful Tiger Lake. Check out the Travel/Stay page for more details!
Come Home to Yourself at Retreats by the Lake
Retreats by the Lake is situated next to Tiger Lake. The property has an internal lagoon, perfect for boating, kayaking, rowing, among others. You'll enjoy delicious and nourishing vegetarian meals in their spacious dining room or on the outdoor decks.
Frequently Asked Questions
General Information/Logistics
Its best to fly into the Orlando airport and obtain your own transportation to the site, which is an hour from Orlando. 3HO will also add additional information in August about shuttle services to Retreats by the Lake.
After consultation on best practices for health and safety in these times of continuing impact of COVID-19, 3HO has implemented the following protocols:
Solstice is open to registered day and overnight guests only. Registration is required prior to your arrival at the retreat site. Currently, we are unable to accommodate walk-in guests.
Vaccination is not required, but check your countries requirements if you are traveling into the US from another country.
Staff are trained on best practices to mitigate the impact of COVID-19 and other transmittable diseases.
Retreats by the Lake uses cleaning products that meet EPA guidelines and are effective against viruses, bacteria, and other pathogens. Common areas are frequently cleaned and sanitized. Guest Rooms are thoroughly cleaned and disinfected prior to guest arrival.
3HO International will have COVID-19 test kits available on-site for self testing. If you are feeling ill and test positive during the event, we will ask you to depart the site. For this reason, you may want to consider purchasing trip insurance. If there is an outbreak during the event, 3HO may implement a mask policy to prevent further spread. If this happens, masks will be provided. This is to protect vulnerable community members and elders.
Retreats by the Lake permits service animals to accompany people with disabilities in all areas where members of the public are allowed to go. Service animals must be harnessed, leashed, or tethered.
We can't wait to see you for Summer Solstice 2024!
Be sure to sign-up for our email list and be the first to know about registration for Summer Solstice 2024!