September eEquinox: The Seasonal Soul
September 17, 2022 @ 4:00 am

-

7:30 pm

MDT

Free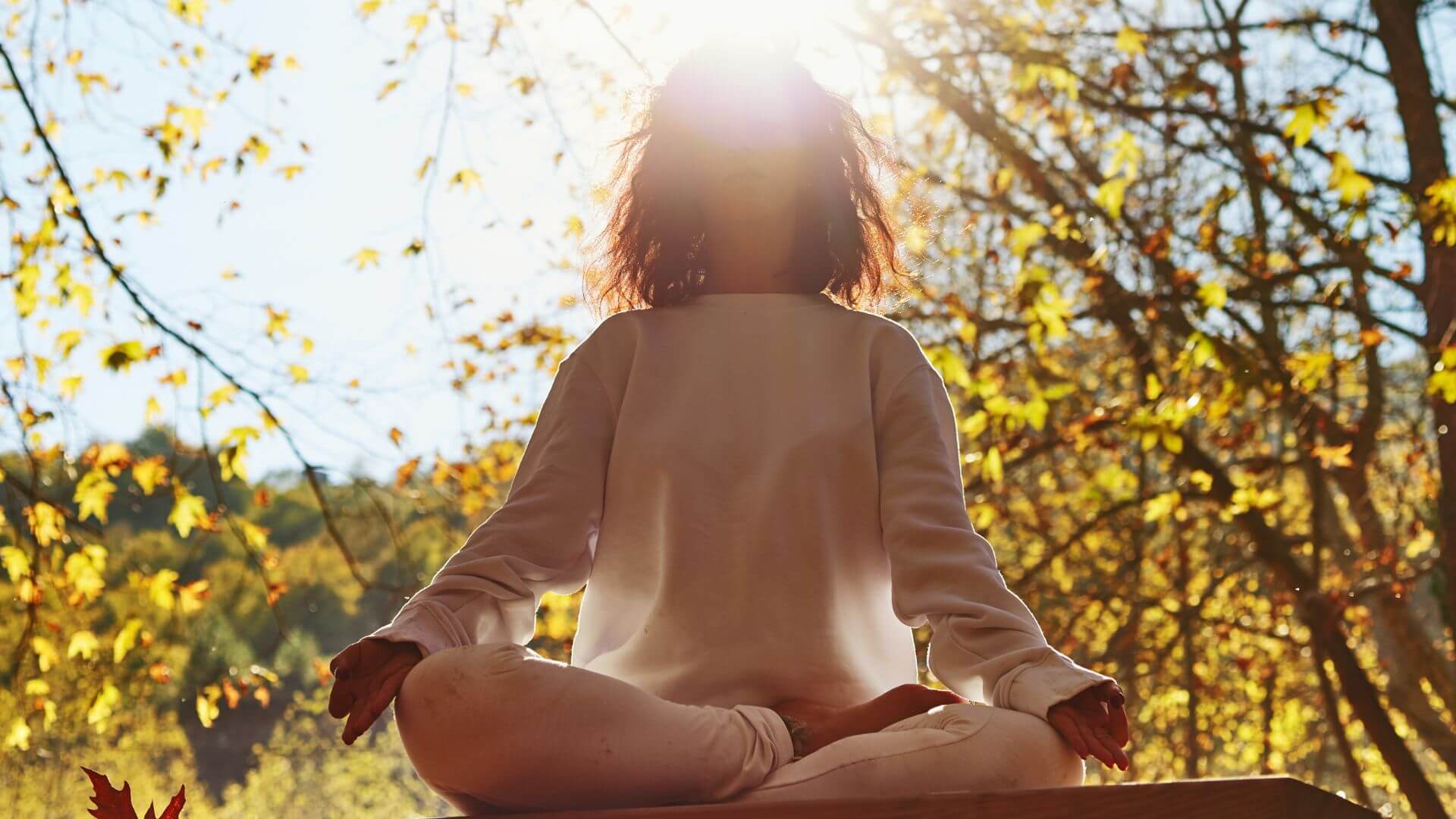 Donation-Based Registration Now Open!
Make a donation to support this event and future 3HO programming here.
We All See the Same Sky
No matter where we are on this living earth, we all see the same sky. And no matter where we are on the spectrum of race, religion, ability, or gender, we stand on the same planet. Whether you're in the Northern or Southern hemisphere, this time of year means that the sun crosses above Earth's equator, making day and night nearly equal in length. The time of the Equinox reflects a balance between yin and yang, light and dark, night and day. 
As within, so without. 
This balance is reflected internally and externally. The idea is that we are nature, and as such, move best with her rhythms. To harmonize with the change of season, the wisdom of Ayurveda suggests that we be more conscientious of our thoughts, words, and actions at the time of the Equinox. 
At this auspicious time of year, we invite you to join us in global community for The September eEquinox: The Seasonal Soul. Our all-day program includes morning sadhana, Kundalini Yoga classes, workshops, and an evening program that explore Ayurveda and self-care during seasonal change. Nurture yourself with ancient wisdom and soul family that's stood the test of time as we usher in the new season! 
---
SCHEDULE OF EVENTS
4:00-6:30am MT – Aquarian Sadhana with Japa Kaur: Join us for the uplifting practice of Aquarian Sadhana. We will begin with the recitation of Japji, followed by a yoga set, and an hour of chanting.
8:00-9:30am MT – Stabilizing our Elemental Being with Kara Looney: In this special Equinox Kundalini Yoga class that incorporates pranayama, mantra, intentional movement, and sound healing, we will realign and empower the expression of the 5 sacred elements within our being and reclaim a natural harmony with the living world on this special day of balance.
10:00-11:00am MT – Ayurveda for the Season Workshop with Hari Simran: Join Hari Simran for a special Equinox workshop where she will introduce the concepts of Ayurveda and how to incorporate them into your everyday life in practical, understandable, and useful ways. The transition from season to season is one of the most important times of year to support your body and mind. This will be an introduction to a 7-day Ayurvedic Immersion where you have the opportunity to join Hari Simran in deepening your knowledge of the Ayurvedic practices you have learned about in the workshop that will ultimately rejuvenate, restore and nourish your mind, body, and spirit.
12:00-1:30pm MT – Chai and Chat with Seva Corps & IKYTA: Join Gurushabad Kaur and Santokh Kaur as we talk about the Project "Kundalini Yoga for Incarcerated Women in Peru" – an initiative that was created in 2009, along with their team of ten Kundalini Yoga teachers. They offer yoga practices to female inmates in Lima, Peru, as a tool to promote cleansing and health, providing support to deal with the deprivation of freedom.
3:00-4:30pm MT – Cleanse the Meridians and Renew Through Kundalini Yoga with Dr. Japa Kaur Khalsa: Cleanse your meridian system and tap into the depth of your Pranic body with the rejuvenating qualities of Chinese Medicine. This yoga class will build your health by clearing the fascia and meridian system leaving you invigorated and recharged. Explore how you can be strong and limber in this world with new perspectives from ancient medicine. Find your inner strength and courage in this powerfully healing yoga kriya.
6:00-7:30pm MT – Chant and Find Your Natural Breath with Kiret Nam: Mantras are always there to guide us to joy and freedom. May this fresh and new season allow us to fall in love again with sacred sounds that support, transform, heal, and keep the light bright! Let's chant beautiful songs for the Soul and the Equinox!
* Please note that all Equinox events will take place set to Mountain Daylight Time. If you would like to check timing in your time zone, please click here.
Donation-Based Registration Now Open!
Make a donation to support this event and future 3HO programming here.
---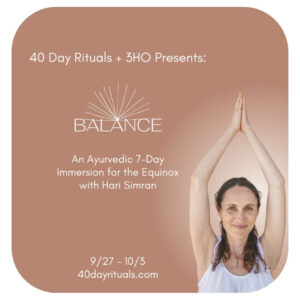 As part of the Equinox celebration, 3HO and 40-Day Rituals invite you to enroll in a 7-day Ayurvedic Immersion from September 27th to October 3rd. Join Hari Simran for a 7-day ritual into the healing science of Ayurveda and the discovery of how to find balance through learning the unique rhythms and cycles that your body goes through every day. Discover the art of using simple, yet profound Ayurvedic principles in your everyday life to find more joy, peace, nourishment, and love within yourself and your relationships. This course is for everyOne and everyBody.
REGISTRATION FOR THIS COURSE IS SEPARATE FROM THE SEPTEMBER 17th eEQUINOX AND TAKES PLACE ON THE 40-DAY RITUALS WEBSITE. CLICK HERE TO REGISTER. 
Related Events