Shakti Parwha Kaur Khalsa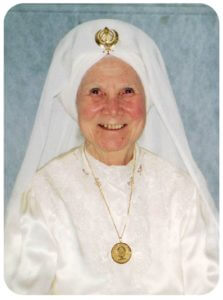 Mukhia Sardarni Sahiba Shakti Parwha Kaur Khalsa, known lovingly to so many as "Shakti", passed away peacefully in her home on November 8th, 2023 at age 94.
Throughout her life, Shakti Parwha Kaur studied spirituality. She met many of the swamis and Eastern masters who came through Los Angeles. In 1966 she embarked on her global "grand tour" and visited many more gurus, saints, holy men and women, and spiritual teachers. In 1968 Shakti Parwha Kaur met Yogi Bhajan at the East West Cultural Center in Los Angeles, California, and became his first student in the U.S. Soon after, she became a Kundalini Yoga teacher and continued teaching until her retirement.
Shakti Parwha Kaur was one of the founders of 3HO International and is known as the "Mother of 3HO". In 1973 she was ordained as a minister of Sikh Dharma and given the honorable title of Mukhia Sardarni Sahiba. She was a member of the Khalsa Council, held executive offices in both Sikh Dharma and the 3HO International, was Executive Secretary to Yogi Bhajan and served as a facilitator for White Tantric Yoga courses.
Author and co-author of four books, she is especially well-known for Kundalini Yoga: The Flow of Eternal Power, a simple guide for both new students and seasoned practitioners. She specialized in teaching new students and created "A Tool Kit for Teaching Beginners Kundalini Yoga", that is widely used in teacher training courses around the world. For over 30 years she produced the 3HO newsletter, "The Science of Keeping Up". She was a member of the International Kundalini Yoga Teachers Association (IKYTA) and edited the inspiring "Kundalini Rising" and "Prosperity Paths" newsletters. She was a contributing editor for "Aquarian Times" magazine and produced several Public Access Cable TV shows called "Shakti's Show: All About Kundalini Yoga".
In addition to her love of writing and reading, Shakti Parwha Kaur created intricate tile mosaics. She was an avid moviegoer and known for her youthful exuberance, lighthearted humor, poetry, and puns, and her tendency to burst into song. She frequently played her keyboard and sang during Kirtan programs at Guru Ram Das Ashram in Los Angeles, and recorded her first CD, "Lord of Miracles", in 2002.
She was a champion of morning Sadhana, dedicating the early hours before dawn each day to yoga and meditation in a group. She attended daily, and in her devotion made sure the Sadhana was done impeccably.
Shakti Parwha Kaur was born on June 19, 1929, in Minneapolis, Minnesota, to Jacob and Fanny Garon. She had two older brothers, Myron and Theodore. In 1943 she and her mother moved to Los Angeles to be near her brother Theodore, who was serving in the war effort. There she attended Hollywood High School and graduated as the class Valedictorian, having been chosen to speak at the graduation after writing an outstanding paper reasoning why teachers ought to be better paid. While in high school, she herself served the war effort by participating in "The 4/4 Plan" which allowed students to attend school for four hours and work for four hours. She attended Santa Monica Community College and the University of California Los Angeles, leaving school to be married. In 1949 she gave birth to her son, James. After her marriage ended, she raised James as a single mother. James passed away in 1998 at age 49. She is survived by her nephew, Peter Garon.
Shakti Parwha Kaur Khalsa lives on through her legacy and in the hearts of all her spiritual sons and daughters around the world.
Memorial Program – How you can participate
Remembrance of Shakti Parwha Kaur from the community