40 Day Meditation for Self Love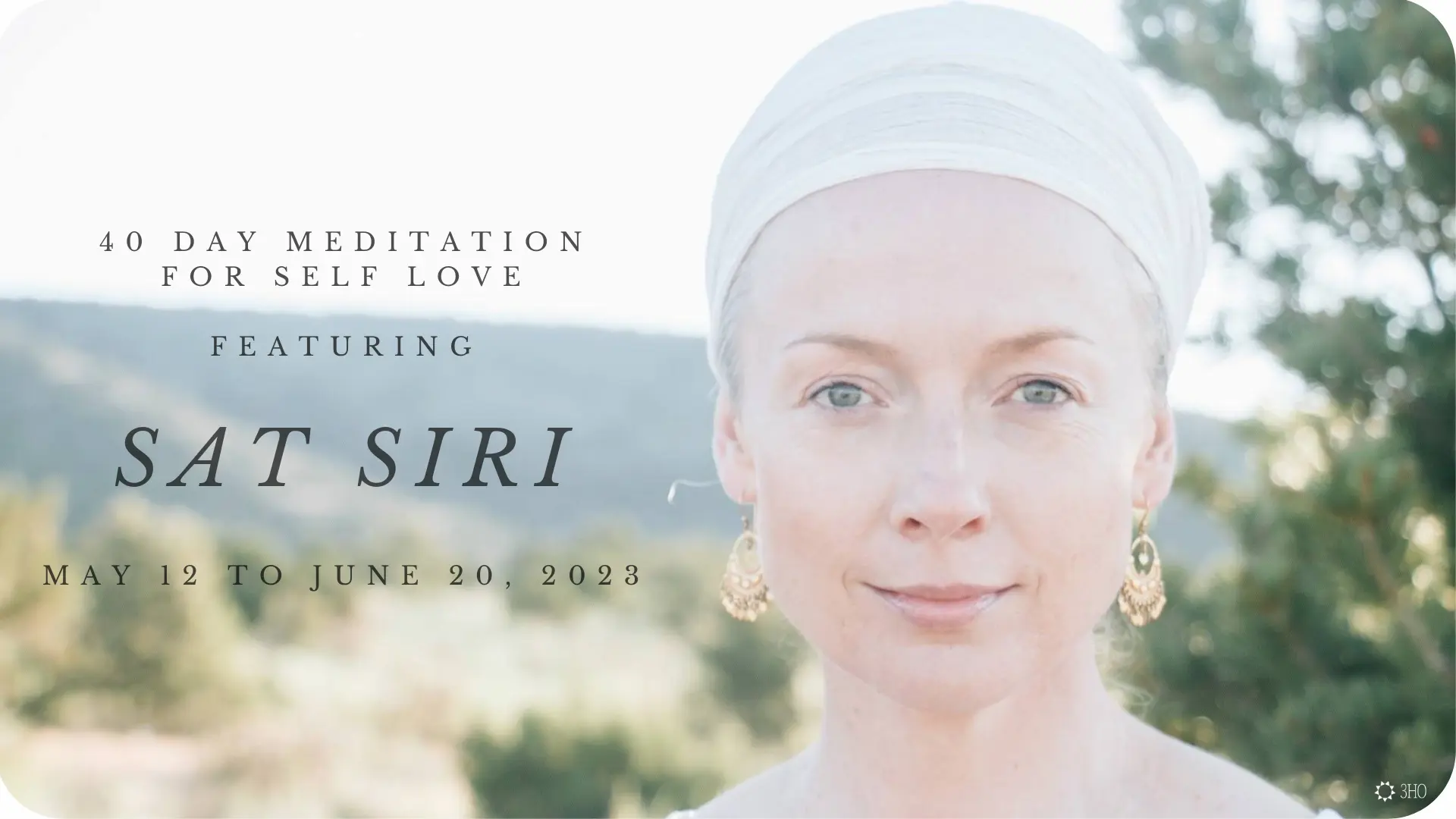 Join Sat Siri Kaur for a transformative 40-day meditation practice, leading up to Summer Solstice. Through the "Kriya for Self Love," a powerful Kundalini Yoga practice, you will learn to connect with your Sat Nam, your true self, develop greater self-love, and embrace your inner world.
This practice is for you if:
You're seeking a deeper connection with yourself and your intuition

You want to learn powerful techniques for cultivating self-love

You're looking for a transformative and healing practice to support your growth and evolution as a Kundalini Yogi
We suggest a donation of US $25 to support the ongoing work of 3HO and our mission to share the transformative power of Kundalini Yoga with the world.
Registered attendees will receive:
Access to the daily meditation practice led by Sat Siri for 40 days leading up to Summer Solstice

A private online community where you can connect with other participants and share your experiences

Bonus resources and teachings to deepen your practice and understanding of Kundalini Yoga
Schedule and logistics:
Start date: May 12th, 2023

End date: June 20th, 2023

Access: All practices will be delivered via a private

link

accessible to registered participants only.
Don't miss this opportunity to cultivate greater self-love and connect with your true self through the transformative power of Kundalini Yoga. 
For more information, contact us at [email protected]
About Sat Siri
Sat Siri Kaur (Rachel Dougherty) is a trailblazing, next-generation, Kundalini Yoga teacher and trainer. She travels the world teaching Kundalini Yoga in places like Bali, Maui, Mexico, and India. She has been practicing Yoga and Meditation for over twenty years and teaching Kundalini Yoga for fourteen. She practiced Iyengar Yoga, Vipassana Meditation, and many other modalities before finding Kundalini Yoga. A former ballet dancer with the Australian Ballet, Rachel found ballet meditation in motion, a creative expression that renewed her perspective with each step, turn, or jump.
Related Events