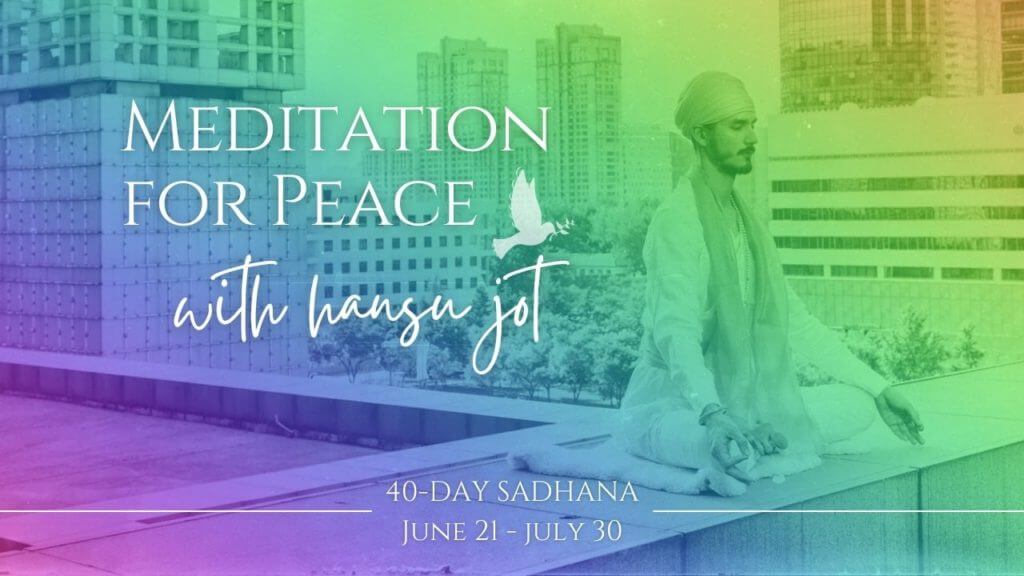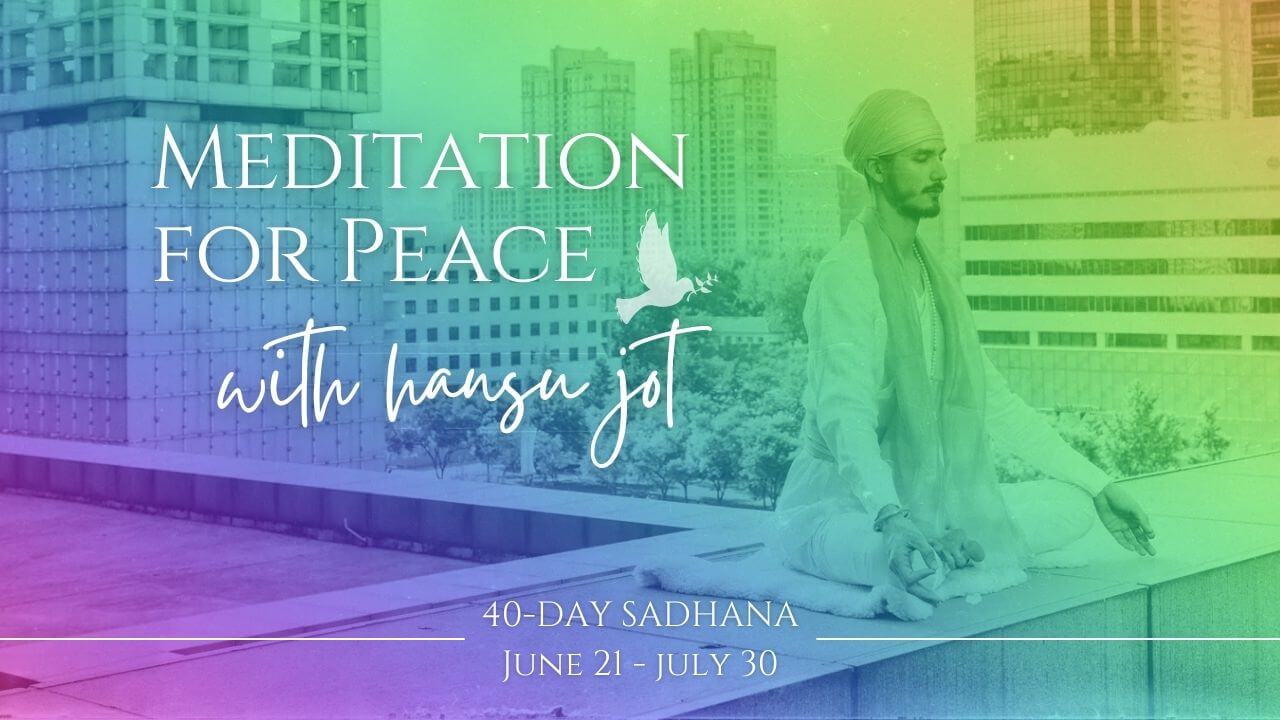 Meditation for Peace: A 40-Day Sadhana with Hansu Jot
For 40-days following our June eSolstice, 3HO International invites you to join Hansu Jot and the global community for the Meditation for Peace – utilizing the Sat Narayan mantra.
This mantra can help us to vibrate the reality of peace that we are all hoping to have as part of our lives. While chanting, we can allow our minds and bodies to relax into the mantra and surrender into a state of non-resistance or going with the flow. The sound Narayan is related to the water element – that which is cleansing and flows. We all come from the water and chanting this mantra cultivates this primal state of inner peace. Once we feel it internally, we can then project it outward, bringing peace into the world.
Hansu Jot will be with you online, sharing the practice live on 3HO International's Facebook Page and Instagram account on June 21st, July 10th, and July 30th at 9:00am MT. The invitation, instructional, and practice videos can be found here, as well as on 3HO International's YouTube Channel. Throughout the 40-days, Hansu Jot will also be sharing messages to support you and allow you to tap into this deep and powerful practice.
Participation is free and open to all. Donations are welcome to support ongoing relief efforts in Ukraine.
We have partnered with 3HO Europe and Sikh Dharma International to raise money for direct, on-the-ground aid to Ukrainian refugees. 11% of all donations made at the link below, during this 40-Day Sadhana, will go toward these continued relief efforts.
The first step to participate in the daily practice is to watch these three videos. Once you know how to do the meditation, you can simply return here to utilize the practice video each day. We hope you'll join us each day!
The starting day of our Sadhana – June 21st – also happens to be the actual Solstice, as well as the United Nations International Day of Yoga. As a UN NGO, 3HO International is thrilled to be partnering in this celebration, as the message of yoga and meditation in promoting both the physical and mental well-being of humanity has never been more relevant.
Hansu Jot invites you to join people from all over the world for this 40-day practice.
Learn the simple meditation instructions and mantra for this transformative meditation.
Video 3: Full Practice Video
Practice along with Hansu Jot and community members from all over the world.
With your hands in Prayer Pose, chant this mantra for awakening the wisdom within three times before beginning your practice.
Ong Namo Guru Dev Namo
This mantra calls upon the wisdom of your heart for guidance and upliftment.
POSTURE AND MUDRA:
Sit in Easy Pose or sit in a chair with a tall spine.
EYES AND BREATH:
Ideally the eyes are focused on the Third Eye. The breath will adjust itself as you chant.
MUDRA:
Hands are in Gyan Mudra.
MANTRA:
Chant along with the Sat Narayan mantra.
Transliteration:
Sat Narayan Wahe Guru
Hari Narayan Sat Nam.
Translation:
Sat Narayan= True Sustainer
Wahe Guru = Indescribable Wisdom
Hari Narayan = Creative Sustainer
Sat Nam = True Identity
TIME:
Start with 11-minutes. You can work up to 31 or 62-minutes.
TO FINISH:
Powerfully and deeply inhale while raising arms above your head. Hold for 10-15 seconds. Powerfully exhale. Repeat inhale-hold-exhale once more with raised arms. Then lower your arms to your lap/knees and sit quietly. Feel the vibrations of the mantra in you and around you.
Thank You for Joining Us!
Sign Up to Stay Tuned About Upcoming Events
We'll send you information about our dynamic schedule of virtual and in-person events